I was born in Esfahan, Iran, a town famous for its arts and architecture. My mother named me 'Bezhad' after a well-known 15th Century artist, hoping her son to become an artist too. In my mind, she was the best artist. "Can you draw me a fish Mum"? A few motions of the pen and 'wallah' There was a fish. I was mind blown! Just like magic!

Drawing became my obsession as I grew up. Perhaps boredom was a strong motive as there was no internet or TV to keep me busy back then.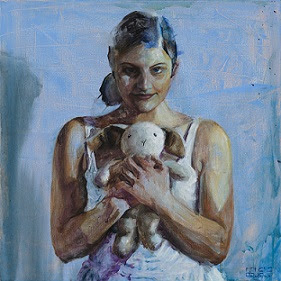 In fifth grade, our art teacher would rest his head on the desk and fall asleep, trusting that I would run the art class. I did not mind it and the kids loved it. (I did not know about child labour back then.) My first experience with oil paint was around the same age. It was a DISASTER. I decided to never touch oil paint ever again.
In 2005 an 'unfortunate' event with my Australian visa application delayed my move to Australia. My prolonged stay in Esfahan opened the path to my journey as an apprentice under the mentorship of Iranian Master, Hamed Sudrahami. He taught me the traditional painting techniques and guided me to think like an artist.
At nineteen I began tutoring drawing workshops and earned my first income as an artist. I bought a minimalist set of painting materials. I struggled with learning oil painting, so I gave up oil painting for a second time. It felt like a heavy burden on my heart. I could not get it: It was never going to work out. I did not know just a month later that I had to pick up my brushes again. This time it was about survival. There were multiple painting commissions to deliver. I was forced to learn quickly and I fell in love with the medium.
I moved to Perth on 2007. I had to re-establish myself in a new country. To financially support myself and my family I decided to pursue my other passion – Engineering. I graduated with a Bachelor of Electrical Engineering from Curtin University in 2013.
I continued self education in art and I studied techniques of classical realism at the Florence Academy of Art and in Sweden (summers of 2013 and 2016).Working full-time as an engineer meant not having much time to draw or paint. So, in 2017 I went on a 12 month sabbatical. I rented an art studio and began studying a Master of Applied Design and Art at Curtin University. The contemporary learnings and critical thinking skills that I took away from this course profoundly influenced my practice. I hope I can continue my Masters Degree in the future.
Eventually, in early 2020, just before the first COVID lock down, I decided to quit my secure day job and work full time as an artist. If you think this was a crazy risk to take, you are absolutely correct. It felt like jumping out of a moving car. I am grateful for the support I have received during this time from my fellow artists, family and friends, especially Judith Eleuter, the owner of Art and Craft World, Morely.
I am very passionate about transferring my knowledge to others. I have been offering oil painting and drawing workshops and private tutoring to many people of diverse ages and backgrounds.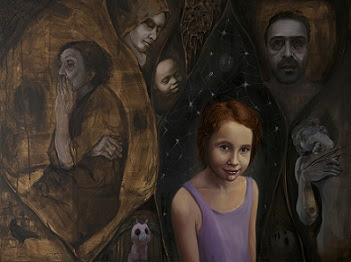 ARTIST STATEMENT
I am inspired by people's stories. As I listen to them, I embody their emotions and take them through my imagination, to order generate my own visual narrative. It is a spiritual process that may take weeks before I commence a painting.
I am more interested in the process of making than creating an exact replica (photo realistic) image. It is not unusual that I would memorise a vision from a dream, capture it as soon as I wake up and incorporate that in a painting.
In my recent body of work, I have been exploring the relationship between individuals and their autobiographical objects, particularly those personal effects they have held close since childhood. I believe a specific object can be associated with memories of a particular time, events,places and personal experiences.
Acrylic has become my medium of choice as it does not have the complexity of oil paint. It enables me to execute ideas as soon as they spark in my mind. I make decisions as I go, experiment more and embrace the random. I can never be certain how the finished work will look until the end. It is thrilling. My classical training gives me a solid foundation to push from. Understanding the rules helps me to know when to break them, like putting colours where they do not typically belong or leaving out gaps to allow my audience to participate in my work by using their imagination.
https://www.instagram.com/bezhad.alipour.art
https://www.bezhadalipour.com
https://www.facebook.com/bezhad.alipoalipour.comur.art
behzad.alipour@me.com