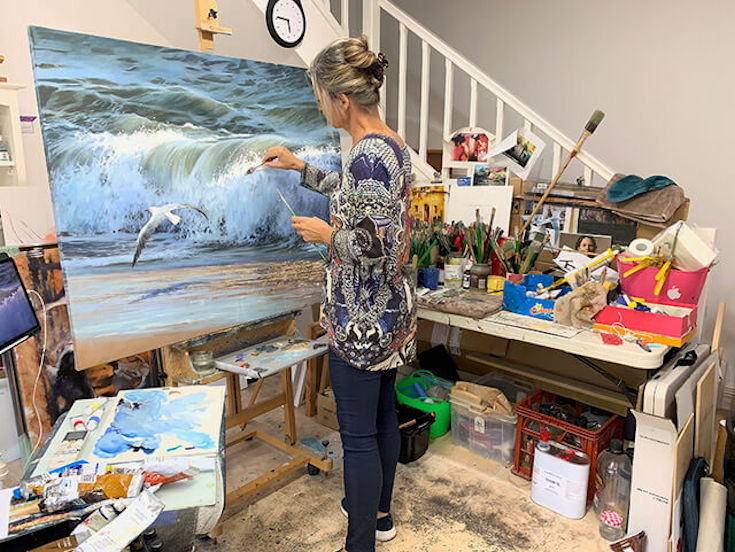 Artist's Statement
My work attempts to capture those fleeting moments of beauty when sunlight filters through the trees or glistens over the surface of the sea… a thoroughly emotional response in paint! The bold brush strokes and colours I use reflect my personality and my joy at the beautiful light in the landscape that I observe. I constantly experiment with different materials and styles to keep pace with the ever-changing scenery.
About Alix Peta Korte
A self-confessed 'colour junkie', local artist Alix is continually inspired by the ruggedly beautiful landscape of Western Australia. She experiments loosely with impression to create semi-realistic landscapes, filled with exaggerated colour to create energy and impact. Her background in graphic design is self-evident in her realistic drawing style and dynamic composition.
Born on the coast in Cape Town, the sea is a favourite subject with many of her paintings including water as the vibrancy and fluidity of its reflective, transparent surface is a constant source of fascination. A love of animals is evident in her many portrayals of working dogs and farm animals. The rich, buttery texture of oil paint makes this an obvious choice of medium for her work using bold brushstrokes, thin glazes and thick impasto paint on canvas, clear primed linen and wood.
As an award-winning artist, her work is part of local exhibitions every year and she is currently represented by Yallingup Gallery, Gallery Aura, Finishing Touch Gallery, Millbrook Gallery and Gallery 360. Her work is held in the corporate collections of Hancock Prospecting, Roy Hill, Marubeni Corporation, POSCO and China Steel
Corporation.
WEB: https://www.alixkorte.com
FACEBOOK: https://www.facebook.com/alixkorteart
INSTAGRAM: https://www.instagram.com/alixkorteart