Born in Bruce Rock during the Great Depression and delivered by my father, a country doctor at the time, was a fortunate beginning for me. Both parents enriched their lives with musicianship, art and literature. This rubbed off on me.
I can now look back on almost 8 decades of an interesting, stimulating and often challenging life. Seven years of professional training – nurse, midwife and teacher with 40 years continuous full-time career, a lot of travel, an unconventional marriage to a man from Kent who was as underprivileged as I was privileged. We met, by chance, on a cruise ship. I had many opportunities to develop new skills; with musical instruments, renovating old houses, becoming an owner-builder and building two Mediterranean style villas on an old 1896 bakery site and developing an international tourist accommodation business from scratch. It taught me that if you tried hard enough and persevered, you could do anything you really wished to do.
'So, on my 60th birthday, my agency was sold, also the renovated 1896 Baker's Cottage and the Old Bakery Villas.
Then leaving our son, Paul, to hold the fort and feeling free and adventurous, we embarked on a three-month trip around the world. An important part of my luggage was a sketching bag, with pouches fully equipped for pen and wash sketches. It was always carried over my shoulder. My husband Benno's essential piece of equipment was a piece of plastic with VISA printed on it. We walked our way around the oldest cities in the world whose galleries were packed with the best collections of art ever to be seen.

This was the beginning of a new life for me, with art, art history, art practice and the learning of the skills required for the most absorbing occupation I have ever had. I now wanted to be an artist. I was a late starter as a practising artist and had to catch up with lessons in oil, watercolour, portraiture and still life. I had masterclasses from some of the best-recognised watercolourists. I set up my Gallery and Studio in High Street Fremantle, close to my home. I often sold to passing tourists until the rent became too high. I now do my artwork in a corner of my living room. I paint for my own innate need to get better at expressing myself.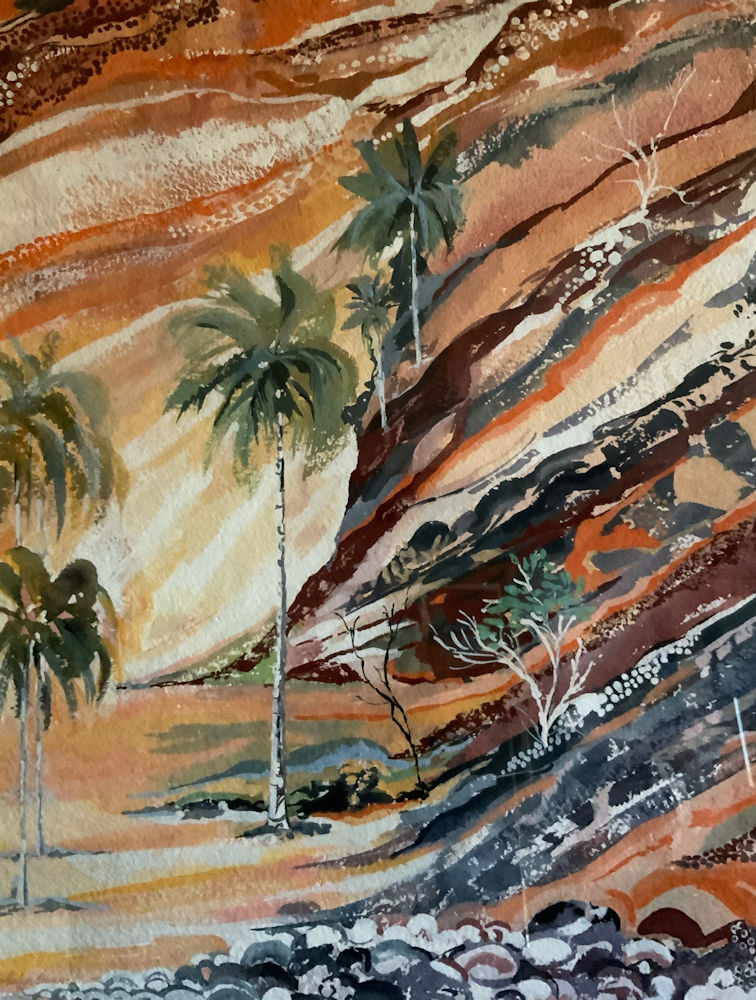 ARTIST'S STATEMENT
I tend to paint compulsively, choosing a topic or special scenario and painting it over and over again. I have moved from realism over the years to wanting to impart something more – something magical. At the moment I label my paintings 'magical realism'. but this may change dramatically soon. If so, it is still all about colour, light and form. Light is about the most important ingredient in making any picture and I am conscious of the greatest source of light – the sun. The effects of sunlight falling on the Earth and changing every few seconds, inspires me more than anything else. I am inspired by surviving ancient landscapes in the north of Australia and in some of my interpretations I have tried to look right through the layers of Earth, below the surface, going back millennia. This has meant I have had to go semi-abstract, in for example, "the Bungles". I have noticed that many old artists end up with Abstraction as a style.
For the purchase of my artwork, please email directly.
Email: colhen837@icloud.com
Instagram: https://www.instagram.com/colynhenwoodart