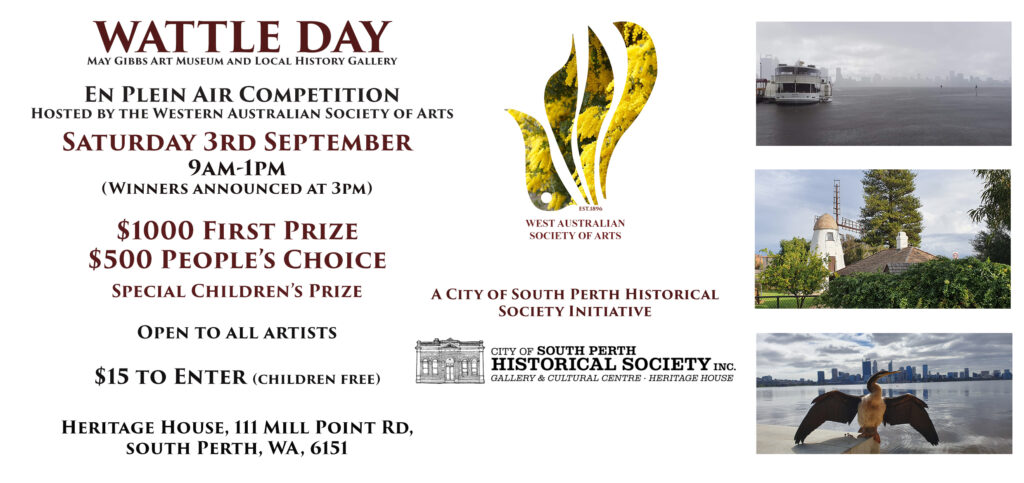 The City of South Perth Historical Society has kindly invited the Western Australian Society of Arts to host an En Plein Air competition as part of their Wattle Day Event.
The Wattle Day event itself will be held on Saturday, the 3rd of September in and around Heritage House (Gallery & Cultural Centre) in South Perth. We encourage the En Plein Air artists to explore all the interesting nooks and crannies of South Perth. We will be providing a map of interesting locations to paint if you are unfamiliar with the area.
South Perth holds a special place in WASA's history. This was where many of the founders of the Wilgie Sketchers Club (later to become the West Australian Society of Arts) lived and painted. Our connection to this area and to the historical society is so important.
We are hoping that the Wattle Day and En Plein Air Competition will become an annual event (stay tuned).
WASA will be providing a prize of $1000 to the winning piece.
All WASA members participating will have the opportunity to have their Plein Air artwork hung in the City of South Perth Historical Society's art gallery for 4 weeks following the event. Only 8 pieces will be chosen. And YES you can sell your piece there. Please note there will be a commission fee charged on all pieces sold (similar to our annual exhibition).
Click here https://waart.org.au/wattle-day-september-2022/ to find out more about the WATTLE DAY Plein Air competition.